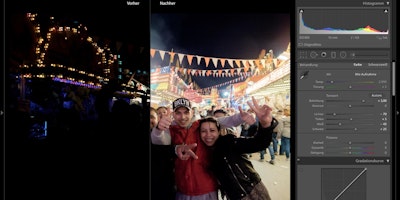 Registrieren
Fuji X Secrets RAW – bessere Bilder mit Fujifilm X-Kameras und RAW, am 11./12. November 2017 in Nürnberg/Schwabach Zweitägiger Wochenend-Workshop mit…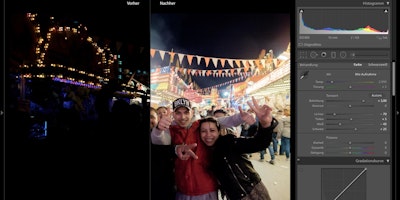 Registrieren
Fuji X Secrets RAW – bessere Bilder mit Fujifilm X-Kameras und RAW, am 18./19. November 2017 in Nürnberg/Schwabach Zweitägiger Wochenend-Workshop mit…
Letzte Event-Updates
Thinking Big
by Rico Pfirstinger
Fujifilm expands to medium format, and people have questions: How fast is it? What about shutter shock? What kind of sensor is there? Is there a touch-screen display? What's the resolution of the EVF? What about leaf-shutter support? Are the lenses optically corrected? And what about video? This report will help you out…
The mirrorless Fujifilm GFX 50S digital medium format camera features a 43.8 × 32.9mm sensor ("G Format") with 51.4 megapixels. The body and three Fujinon GF lenses will be available in spring, with three more lenses arriving later in 2017. The sensor is based on a Sony CMOS sensor that is known from similar offerings like the Hasselblad X1D. However, Fujifilm was able to incorporate several tweaks und improvements concerning the sensor's light collecting ability and efficiency.
With a detachable EVF and a design that wants to build a bridge between the classic X series and modern cameras, the mirrorless Fujifilm GFX 50S was without a doubt the most exciting camera announcement as this year's Photokina show in Cologne, Germany
Sensor and Processor
The sensor is using a traditional Bayer color filter array without an optical low-pass filter, and its 51.4 megapixels can be adapted to various aspect ratios, including 4:3 (default), 3:2, 1:1, 4:5, 6:7 and 6:17. Electronic First Curtain (EFC) and Electronic Shutter (ES) are yet to be implemented, but will most likely be part of the final product. Video will be available in Full-HD with 30 fps. Beware of rolling shutter, though!
The new 43.8 × 32.9mm sensor in the GFX 50S offers a resolution of more than 50 MP collects about four times the amount of light as Fuji's APS-C sensors. The new G mount features a staggering number of twelve electronic lens contacts. What seams like overkill will most likely be very useful when it comes to adapting third-party lenses.
The GFX 50S uses the same X-Processor Pro imaging processor that is found in the X-Pro2 and X-T2. Since the sensor only supports contrast detection autofocus (CDAF), efficient AF algorithms are all the more important. The GFX 50S prototypes we tested behaved surprisingly snappy, and the best results can be achieved with lenses that feature inner focussing (IF). Sadly, among the six initial lenses, only the GF32-64mmF4 R LM WR zoom lens falls in that category. The start-up time of the camera is pleasingly short and comparable to other current X series models. However, the shooting intervals will be longer, with a number of 700 ms currently floating around. Den Rest des Beitrags lesen »
Der perfekte Kompromiss?
von Rico Pfirstinger
Nach dem erfolgreichen XF35mmF2 R WR bringt Fujifilm mit dem XF23mmF2 R WR eine zweite wetterfeste Festbrennweite mit mittlerer Lichtstärke auf den Markt.
Ihre Kegelform prädestiniert diese kompakten Objektive für die X-Pro2, die Mehrzahl der Benutzer dürfte sie jedoch an weniger exotischen Kameras wie der X-T10, X-T1, X-E2 und X-T2 verwenden.
Was Sie beim XF23mmF2 R WR erwartet – auch im Vergleich mit dem teureren XF23mmF1.4 R und der klassischen X100T –, verrät Ihnen unser kleiner Testbericht.
Kegel Reloaded: Das XF23mmF2 R WR (hier mit der mitgelieferten Kunststoff-Streulichtblende) macht an der X-Pro2 eine gute Figur. Wie schon das XF35mmF2 R WR wurde auch dieses Objektiv so entworfen, dass der Tubus nicht in den Bildrahmen des optischen Suchers hineinragt.
Überraschung! Das neue XF23mmF2 R WR ist eigentlich gar kein 23mm-Objektiv. Tatsächlich verfügt es über einen Bildwinkel, der über den des teureren XF23mmF1.4 R (und den des in der X100-Serie fest eingebauten 23mm-Objektivs) etwas hinausgeht. Die identischen Bildwinkel-Angaben in den offiziellen technischen Spezifikationen sind also irreführend, genügen laut Auskunft aus Tokio jedoch angeblich dem CIPA-Standard. Aha.
Weniger ist mehr: Dieser buchstäblich mit dem Rücken zur Wand gemachte Schnappschuss wäre mit dem kleineren Bildwinkel eines "normalen" 23mm-Objektivs (etwa dem XF23mmF1.4 R) nicht möglich gewesen.
Die großzügige Spezifikation mag hierzulande für Stirnrunzeln sorgen, vielen Benutzern dürfte der größere Bildwinkel des neuen Objektivs jedoch entgegenkommen, schließlich eignet sich das XF23mmF2 F WR aufgrund seiner geringen Größe, der wetterfesten Ausführung und des blitzschnellen Autofokus (bis zu 0,05s) besonders gut für Reportage und Street-Fotografie – also Genres, bei denen es gerne etwas mehr Weitwinkel sein darf. Das Objektiv bietet sich außerdem für die Reise- und Landschaftsfotografie an, sodass wir es auch bei unserem im November und Dezember 2017 stattfindenden Fuji X Secrets Ultimate Workshop in Neuseeland einsetzen werden. Den Rest des Beitrags lesen »
+++ Dieser Workshop ist derzeit ausverkauft, bitte tragt euch unverbindlich in die Warteliste ein – gleicher Link wie bei der Anmeldung +++
Die X-T2 ist endlich da! Und Fuji X Secrets X-T2 & X-Pro2 – Besser Fotografieren mit der Fujifilm X-Pro2 und X-T2 ist der dazu passende Workshop für alle engagierten Benutzer, die es genauer wissen und hinter die Kulissen der neuesten, leistungsstärksten aber auch anspruchsvollsten X-Serie-Modelle blicken möchten. Der zweitätige Workshop wird am 29. und 30. Oktober 2016 von Fuji "X-Pert" Rico Pfirstinger in Schwabach bei Nürnberg in Kooperation mit der FUJIFILMSchool durchgeführt.
Nachdem die X-Pro2 im Oktober ein Firmware-Update erhalten wird, das sie mit der brandneuen X-T2 auf Augenhöhe bringt, können wir bei unserem Workshop Ende Oktober zahlreiche Themen und Fragen zu den neuen Kameras gemeinsam behandeln. Hier einige Beispiele:
Wie funktioniert das neue Autofokus-System, wie unterscheidet es sich von früheren Modellen?
Was bringen die neuen AF-C-Presets und AF-C-Benutzereinstellungen, und wie konfigurieren wir sie in der Praxis?
Welche Einstellungen empfehlen sich für die Kameramenüs, das neue "Mein Menü", das konfigurierbare Quick-Menü und die zahlreichen Funktionstasten? Denn eins ist leider klar: Mit den Werkseinstellungen schöpfen X-Pro2 und X-T2 nur einen Bruchteil ihrer Möglichkeiten aus.
Wie unterscheiden sich Sensor, RAW-Dateien und JPEG-Engine der beiden neuen Kameras von früheren Modellen – und was folgt daraus für den Benutzer?
Inwiefern tickt die DR-Funktion bei den neuen Modellen anders, und wie gehen wir damit praktisch um?
Warum ist der Natural Live View bei den neuen Kameras mit Vorsicht zu genießen – und welche Alternative haben wir dafür?
Was sollten Anwender beachten, die von älteren Modellen wie der X-T1, X-T10 und X-E2(S) aus die X-T2 und X-Pro2 umgestiegen sind?
Selbstverständlich werden wir auch bei diesem Workshop wieder praktische Übungen durchführen, etwa:
Erweitern des Dynamikumfangs auf 17 EV (Blendenstufen) mit nur zwei Aufnahmen,
die verschiedenen AF-Modi im Praxisvergleich am "lebenden Objekt", oder
die DR-Funktion als "Portrait Enhancer" und Bildschirm-Aufheller beim ISOlosen Fotografieren.
Fuji X Secrets X-T2 & X-Pro2 ist der richtige Workshop für alle, die ihre neue und mit Funktionen reichlich ausgestattete X-Kamera wirklich verstehen und aus diesem Verständnis heraus bessere Bilder mit weniger technisch bedingten Hindernissen und Unwägbarkeiten machen möchten. Denn wer seine Kamera beherrscht, der
hat mehr Zeit für kreatives Arbeiten,
geht mit seinem "Werkzeug" sicherer und entspannter um und
hat mehr Zeit, sich aufs Motiv zu konzentrieren.
Kurzum: Die Technik steht nicht mehr im Weg, sondern unterstützt den Fotografen beim Umsetzen seiner individuellen Ziele.
Bitte klicken Sie hier für weitere Details.
Fuji X Secrets Ultimate ist ein einzigartiger Foto-Workshop für Fujifilm X-Serie-Benutzer aus aller Welt. Dieser deutschsprachige Workshop wird vom 19.-26. November von Fuji "X-Pert" Rico Pfirstinger in Phuket (Thailand) in Kooperation mit der FUJIFILMSchool durchgeführt. Ein zweiter – englischsprachiger – Workshop findet vom 12.-19. November statt.
Als Basis haben für unsere kleine Teilnehmergruppe eine der schönsten Villen Phukets exklusiv gemietet – ein atemberaubendes Anwesen, das uns großzügigen Raum für Foto-Shootings, Workshop-Trainingseinheiten und Diskussionen bietet. In diesem einladenden Umfeld können wir nicht nur hervorragend voneinander lernen, sondern auch relaxen, im Infinity-Pool erfrischen, einen Cocktail schlürfen oder den fabelhaften Ausblick genießen.
Selbstverständlich brechen wir neben den Seminar-Einheiten auch zu täglichen Foto-Exkursionen rund um Phuket auf, mit eigenen Fahrzeugen und Fahrern. Und: Sie können ohne Aufpreis einen Gast mitbringen, etwa einen Freund, ein Familienmitglied oder den Partner.
Fuji X Secrets Ultimate ist eine unvergessliche "X-perience" für alle, die den Fuji X-Spirit mit einer kleinen Gruppe von Gleichgesinnten an einer einzigartigen Location leben und erleben möchten. Dieser umfassende Workshop ist zweifellos etwas Besonderes, und Sie erfahren dort alles, was Sie schon immer über das Fuji X-System wissen wollten – aber bisher nie zu fragen wagten.
Bitte klicken Sie hier für weitere Details.
Fuji X Secrets Ultimate is a unique workshop experience for Fujifilm X-series enthusiasts from all around the world. This workshop will be conducted by Fuji "X-Pert" Rico Pfirstinger in English and takes place from Nov. 12 – Nov. 19 in Phuket (Thailand). A second workshop from Nov. 19 – Nov. 26 will be available in German.
We have rented one of Phuket's most beautiful villas exclusively for our small group of delegates and their respective guests – a beautiful place where we, a fellowship of like-minded X enthusiasts, will have ample space for photo shoots, training lessons and informal discussions. It's a place where we can not only learn from each other, but also relax, enjoy great food, refresh in the infinity pool, sip a cocktail at the bar or simply have a great time.
In addition to daily seminar segments, we will also offer daily photo excursions in and around Phuket in cars and drivers that belong to our villa. Also, each delegate can share his or her room with one guest, such as a friend, family member or loved one. So there's no need to leave your partner behind.
Fuji X Secrets Ultimate is an unforgettable "X-perience" for everybody who wants to live and breathe the spirit of the Fujifilm X-series together with a small group of like-minded fellows in a unique environment. This comprehensive workshop will be truly special, and it will certainly tell you Everything You Always Wanted to Know About X, But Were Afraid to Ask.
Please click here for more details.
The Complete Camera
by Rico Pfirstinger
The X-T2 may be Fujifilm's most important product launch since the introduction of the X-Series. Expanding on the best features of the X-T1 and X-Pro2, can this richly featured workhorse convince enthusiasts and pros to consider the X-Mount as a universal go-to system for all their photographic needs? Let's find out in this first impressions review.
Getting serious: The X-T2 is Fujifilm's high-powered successor to the X-T1.
Please note: This carefully researched and ridiculously comprehensive First Look Review of the Fujifilm X-T2 and Vertical Power Booster Grip is based on three different X-T2 pre-production models and more than ten different (and continuously evolving) beta firmware generations. The final hardware and firmware are expected to ship in the first half of September 2016.
***
The Fujifilm X-T2: 120 X-Pert Tips is available
Please click here to order the eBook edition in three different DRM-free formats (all for the price of one), including a 40% discount if you use coupon code XPERT40. German readers can click here to order the German editions.

***
The X-T2 will be available in September 2016. A matching camera-powered EF-X8 mini flashgun is included.
About two and a half years after the introduction of the successful X-T1, Fujifilm is getting serious with taking the X-series into "we can do everything" territory. At first glance, the X-T2 looks very much like its predecessor—why change a concept that stood behind Fujifilm's (so far) most successful X-series camera? However, it's a different story on the inside. At several global launch events, Fujifilm has made it very clear that the X-T2 is supposed to address all photographic needs, including sports and action shooting. It's supposed to be a "complete mirrorless camera".
Ready for business
Compared to the X-T1, the X-T2 features dozens of changes and improvements. Here's an overview in 40 bullet points:
24.3 MP X-Trans CMOS III sensor (Sony-built with 14 bit readout) with no anti-aliasing filter
X-Processor Pro is four times as fast as the EXR II processor used in the X-T1 and offers improved image quality, better noise response and higher dynamic range
improved ISO performance (about 1 stop better than the previous generation) with native ISO covering 200 to 12800, and extended ISO settings of 100, 25600 and 51200 (all with full RAW support)
100% faster sensor readout, resulting in improved AF tracking performance, a dramatically reduced minimum blackout time of only 114 ms, and a high 100 fps EVF refresh rate
0.005s display lag, 0.06s max. AF speed, 0.17s shooting interval, 0.045s shutter lag
configurable AF-C modes to adapt the AF system to different sports and action shooting scenarios
up to 11 fps burst speed in boost mode (14 fps when using the electronic shutter) with AF tracking
3, 4 or 5 fps slow burst mode (CL) with full live-view and CDAF support
improved user interface and a new menu structure, including a custom My Menu with up to 16 entries
DSLR-style "AF-ON" option and new settings to individually engage/disengage focus and exposure lock when the shutter button is half-pressed
more tactile dials and buttons and a new push-button lock mechanism for top-plate dials
better grip and improved standard eyecup
convenient focus stick to quickly move the autofocus frame or zone (with up to 325 AF frames to choose from)
articulated rear screen works in landscape and portrait orientation
new Vertical Power Booster Grip with two additional battery slots for extended shooting (1000+ images) and duplicate controls
weather sealing with protection against rain, dust and freezing
improved 0.77x electronic viewfinder with better image quality and twice the brightness of the previous model, now also featuring an auto brightness mode
low-vibration 1/8000s mechanical shutter with 1/250s flash sync (supplemented by an electronic shutter with 1/32000s), rated for 150,000 shots
new flash system offers high-speed sync, wireless TTL and multi-frame shooting (in concert with compatible flash units such as the new EF-X500)
dual SD card slots (both support the ultra-fast UHS-II standard)
improved hybrid autofocus system with pro-level subject tracking, a larger phase-detection area and more focus points (7 x 13 or 13 x 25 focus points, including either 7 x 7 or 13 x 13 phase detection points)
automatic pixel mapping (to map out dead pixels)
improved JPEG quality and new ACROS film simulation with ISO-controlled film grain and noise shaping
expanded JPEG settings with additional options for contrast, noise reduction, sharpness, color saturation and film grain simulation
broader ±2 EV bracketing and ±5 EV exposure compensation (along with expanded Push/Pull options in the camera's built-in RAW converter)
lossless RAW compression cuts RAW file size in half
improved battery life indicator for up to three batteries at once (including a 1% accuracy display)
enhanced electronic depth-of-field and distance scale with either pixel-based or film-based precision
new center-weighted metering option
WYSIWYG simulation of fixed dynamic range settings (DR200%, DR400%) in the live view and live histogram of the EVF and LCD, and enhanced highlight DR in Natural Live View mode
dedicated video mode on DRIVE dial replaces video record button
high-quality 4K video and HD video with 100 Mbit/s and oversampling (to minimize moiré and artifacts)
vastly improved video focussing
HDMI output to mirror EVF and LCD displays on monitors and HD beamers, or to record the live view with an HD frame grabber
uncompressed 4:2:2 HD and 4K HDMI output to external recording devices, including "F-Log" flat gamma 4K recording with expanded dynamic range
threaded cable release option, fast USB 3.0 interface, 3.5mm mic input, 2.5mm remote control input, 3.5mm sound/headphone output (in the Vertical Power Booster Grip)
USB charging for the in-body battery
Vertical Power Booster Grip includes an external power input to power the camera and charge batteries inside the grip (2 hours charging time for two batteries)
new NP-W126S battery with reduced heat dissemination (old batteries remain fully compatible)
USB and wireless tethering options (after a future firmware update) with new and improved plug-ins for Adobe Lightroom
Bei Fuji X Secrets steht neben beliebten Systemkameras wie der X-T1, X-T10 und X-Pro2 selbstverständlich auch die brandneue X-T2 im Mittelpunkt. Hier geht's zur Liste mit den aktuellen Workshop-Angeboten.
Bei Fuji X Secrets Weekend befassen wir uns in kleinen Gruppen von maximal vier Teilnehmern jeweils ein Wochenende lang intensiv mit den Kameras der X-Serie beschäftigen und ihren "Geheimnissen" auf die Schliche kommen. Darüber hinaus gibt es vor allem in der kalten Jahreszeit auch Fuji X Secrets RAW-Workshops für ebenfalls maximal vier Teilnehmer.
Soeben auf Deutsch erschienen ist außerdem mein neues Buch Die Fujifilm X-Pro2 – 115 Profitipps, das Sie ab sofort als eBook oder in gedruckter Form bestellen können. Dieses und meine anderen Kamerabücher sind optimale Workshop-Begleiter und eine hervorragende Vorbereitung auf Fuji X Secrets Weekend und Fuji X Secrets RAW.
Ein Wochenende voller Überraschungen und Aha-Effekte
Im Vergleich zu den letztjährigen Workshops legen wir dabei ein noch größeres Augenmerk auf die Praxis – etwa wenn es darum geht, für eine Kamera die optimalen Grundeinstellungen zu finden, eine smarte Belegung der Funktionstasten zu ermitteln oder sinnvolle Custom Settings anzulegen.
Aufgrund zahlreicher Firmware-Updates sowie diverser Neuerscheinungen ist die Fuji X-Serie in den letzten Monaten komplexer und noch vielseitiger geworden – dem werden wir in unseren exklusiven Weekend-Workshops Rechnung tragen. Den Rest des Beitrags lesen »